The Pandays are holding two events at a heritage hotel in Mumbai today, making it a very busy day for them. Alanna, a cousin of Ananya Panday, and director Ivor McCray, who is living in the US, got married today following a lengthy mehendi and haldi ceremony. The couple will throw a reception party tonight even though the wedding was in the evening.
Alanna, a digital content developer and model, says of the most important day of her life, "I am incredibly joyful, apprehensive, and eager all at the same moment. I've known and loved Ivor for a very long time, and being surrounded by so much affection on my special day makes me feel privileged. How did Alanna decide to be married so quickly when her peers were waiting longer? Ivor and I thought that was the appropriate thing to do since we are in love, she claims.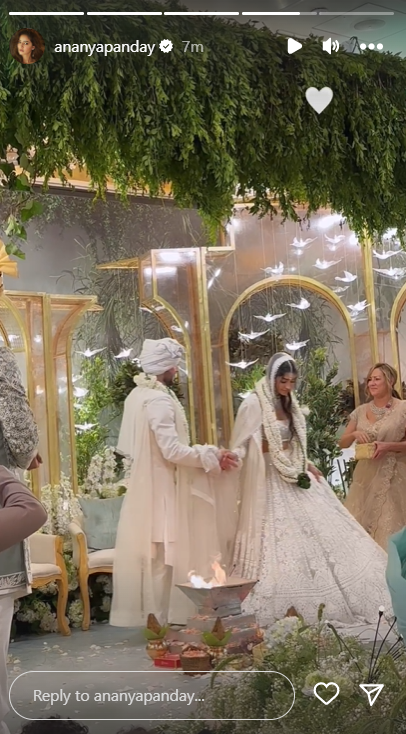 The first of her cousins to marry, Alanna is the daughter of Chikki (Chunky Panday's brother) and Deanne Pandey. Alanna says that everyone was moved by the event. "My family approves of Ivor, therefore all of my relatives, including Ananya, Rysa (Ananya's sister), and my brother Ahaan, are very happy for me to be married. My parents are really sentimental. My mother was heavily involved in the preparation of our wedding and even the first proposal. I consider myself fortunate to be surrounded by such affection, she adds.
Alanna made a point of including a special piece in her clothing even though the family is dressed in coordinated clothes. I'll be wearing a bracelet that my grandma left me for one of the occasions, she admits.
Alanna gushes enthusiastically when asked about the wedding's theme, "The wedding's inspired by a forest theme that will symbolize the resiliency of nature. Birds in flight, a calming water feature, woodland noises, and a specially created scent to imitate the smell of the soil will all be part of the design. We hope that this sensory experience will linger with the visitors forever. All of us require a lot of peace and a stronger relationship with Mother Earth following the epidemic, and this is what the décor symbolizes.